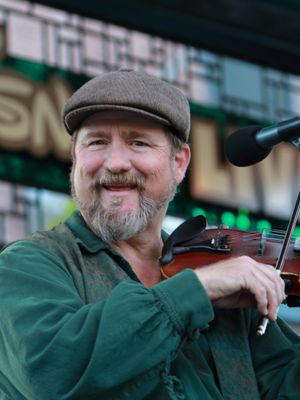 MICHAEL KELLY
(Fiddle, vocals)
This extremely versatile fiddler is well known in all musical circles in which fiddle is played. His career has spanned decades, and has also included forays into the country, newgrass, swing, and bebop realms. His exciting fiddle style and soaring tenor voice are sure to delight all.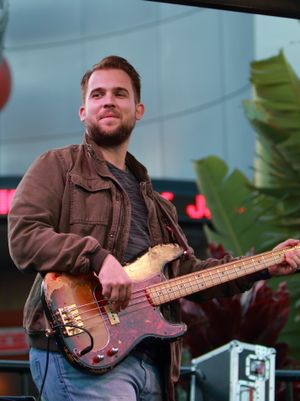 NATHAN YORK, Jr.
An accomplished bassist who has appeared with multiple bands and artists in and outside
of Los Angeles and Orange County,  Nathan has had the distinction of playing at notable venues such as The Greek Theatre, Planet Hollywood, Walt Disney Concert Hall, and The Paramount. He has shared the stage and/or been in the studio with internationally acclaimed artists such as Dick Van Dyke, Cristian Castro, and many others.
Nathan possesses a degree in Music Performance from Fullerton College and frequently ventures in and out of Los Angeles and Orange County writing, performing, recording, and arranging music.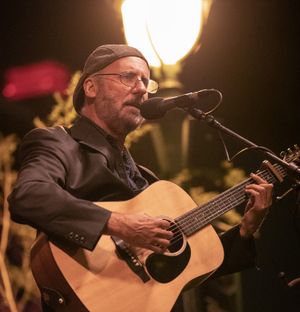 DAVID BURNS
(Acoustic Guitar; banjo; mandolin; vocals)
Recently featured in Dan Miller's "Flatpicking Guitar" Magazine, this veteran of the Celtic and Bluegrass music scenes has played guitar and banjo for countless popular Irish and bluegrass bands, including

Heart Of 'Grass

(headliners at the 2004 Topanga Bluegrass Festival), and

Timbreline

(recent nominees for Best Instrumental Band at the Southern California Music Awards.)  You can also catch Dave currently with Jam Band phenoms The Storytellers and "Shamrock of the '80's" band Flogging Seagulls.
JONATHAN BAER
(Percussion, vocals)
Having recently obtained a degree in Percussion Performance  from California State University, Long Beach, young Jonathan has already proven himself a monster percussion player in all genres, infusing creative rhythmic instrumentation and ornamentation into everything he plays.  A relative newcomer to the Celtic Music scene, Jonathan has made an effortless transition into this previously unfamiliar territory.
     WHO ARE WE?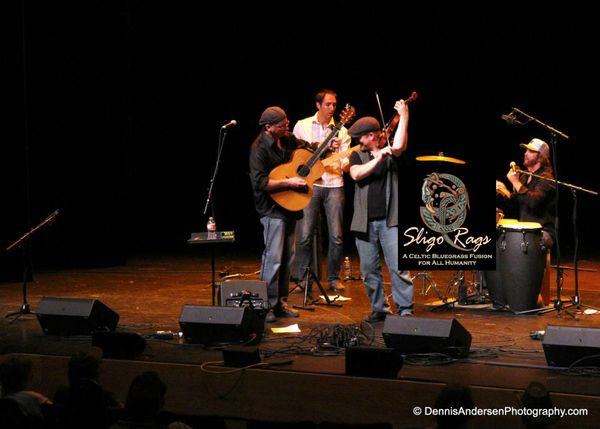 Sligo Rags--
Named among the top acoustic bands in LA (by Folkworks Magazine) and two-time winners of the Orange County Music Award for Best Folk Band, this dynamic ensemble presents Celtic Folk with a decidedly bluegrass attitude. Sligo Rags is taking the local and not-so-local Folk and Celtic music scenes by storm with a unique blend of eclectic musical influences. Dan Miller of Flatpicking Guitar Magazine says "These guys have it all--great vocals, lots of energy, captivating songs, well executed arrangements, and tasteful solos." Their debut studio recording, "The Night Before the Morning After", was called "the best I've heard from a stateside band" by Celtic Beat Magazine, while their sophomore effort, "The Whiskey Never Lies," (called "the best from the West Coast Celts in many years" by Shay Clark of the Irish-American News), was named one of the top 10 of 2007 by Folkworks. Don't be surprised if elements of country, gypsy jazz and swing manage to sneak their way into the act as well. Award-winning flatpicking and fingerstyle guitarist David Burns (recently featured in Flatpicking Guitar Magazine), fiddler extraordinaire Michael Kelly, and world-renowned bassist Nathan York Jr. are guaranteed to fill the room and your lives with electricity. They may give you a good laugh or two along the way as well.

"Sligo Rags have mastered the ability to take songs from a time gone by and make them fresh and relevant for a modern audience. Their passion for the music and their willingness to take risks combine for an outstanding live show."--Music Connection

"…A 'money back, no questions asked if you are not thrilled' act. Bring friends. Dynamic, up tempo, multi-talented. A fusion that just crackles."
          —Bob Stane, The Coffee Gallery Backstage
* Our name is a tribute to the Celtic anthem
"The Irish Rover," whose third verse begins
"We had one million bags of the best
Sligo Rags."